Roland Kreuzer


born in 1957, studies of painting in Munich, Germany, Akademie der Bildenden Künste, studies of philosophy in Munich, Germany, University of Munich. Artistic cooperation with Thomas Heyl, Munich, since 1992. Member of the artists group Broschwitz Berlin since 1992. Artistic cooperation with Karin Christiansen, Sabine Drasen, Natalie Friedinger and Inge X Husemann since 1998. Lives in Berlin, Germany, since 1989.

His work consists of abstract painting, installations, conceptual works, experimental films and videos. He is also working on a few continuous projects like Roman ("Novel", painting, text and pictures, since 1996), Bild und Bildschirm ("Image and Screen", painting and esthetic theory, in 1997/1998), and, as a part of the artists group Broschwitz: Schiffe versenken ("Dumping Ships", painting, 1999-2002) and weltfragen (street installation, 1996-2007)

Since 1985 exhibitions in Berlin, Munich, Darmstadt, Schwedt, Stralsund, Rostock, Bern, Strasbourg, Bornholm, Sczecin, Beirut.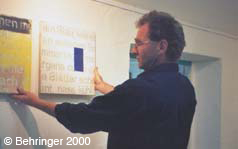 Wilhelm-Külz-Str. 7a
D-14532 Stahnsdorf
Tel. 0151.1560 6001



mail



recent works


broschwitz